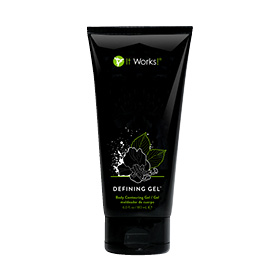 $ 45.00
Loyal Customer Price
Retail Price: $ 75.00
Defining Gel™
BODY CONTOURING GEL
180 mL
Luxurious hydration meets contouring results with this favorite It Works! product.
Defining Gel is an intensive skin care gel that deeply hydrates while firming areas such as the abdomen, back, legs, and upper arms. It's the perfect companion to our Ultimate Body Applicator.
Redefines the appearance of your body's contours
Improves skin texture & tightness
Softens and hydrates
This product is not recommended for pregnant or nursing women or children.
Individual results can and will vary. It Works! cosmetic products are purely cosmetic in nature and do not claim to cure/treat/prevent any skin & hair related disorders. If you are allergic to any ingredients listed, or are under treatment or on medication for your skin, please consult with your physician prior to use.